Introduction
What's the easiest way for businesses to acquire new customers and retain their current clientele? Contrary to popular belief, online reputation outweighs methods such as PPC, personalized email campaigns, and other traditional lead generation tactics.
So if online reputation is so important for businesses today, why doesn't everyone have a 5-star rating with numerous online reviews coming in every week? The reality is that building and maintaining a positive online reputation takes tremendous expertise and persistence.
Fortunately, for companies that make a commitment to their online reputation, the reward is well worth the effort and often in the form of new business.
What is online reputation management?
In years past, reputation was largely based on the size of the company's advertising budgets. The more you saw a brand, the more likely you were to believe it was a good company that would treat customers properly.

Today, the internet has completely leveled the playing field for any business to have a fighting chance of earning customers. While this is great for businesses competing with large corporations, it requires a wealth of knowledge and an organization-wide commitment in order to stay ahead of the curve.
Online reputation is the accumulation of data points, such as online reviews, star ratings, social media presence, etc. that present a narrative of your company from the consumer's perspective.
What this really boils down to is whether or not your business provides a good first impression and whether or not review platforms like Google deem your company as an authentic provider. When meeting a person for the first time, you have factors such as body language, tone of voice and the gamut of sensory details you consider when crafting your feelings towards this new acquaintance.
Businesses, for the most part, do not have this luxury. However, through online reputation management, there are methods in which a company can humanize itself, thus showing consumers why they should select their business.
Regardless of what we as consumers are looking for, whether it be a new set of golf clubs, a contractor to renovate the kitchen, or a gym membership close to work, one of the first questions will always be "What do other people think of this product/service?"
The graph below demonstrates the several areas in which a positive reputation impacts a company's success and future growth.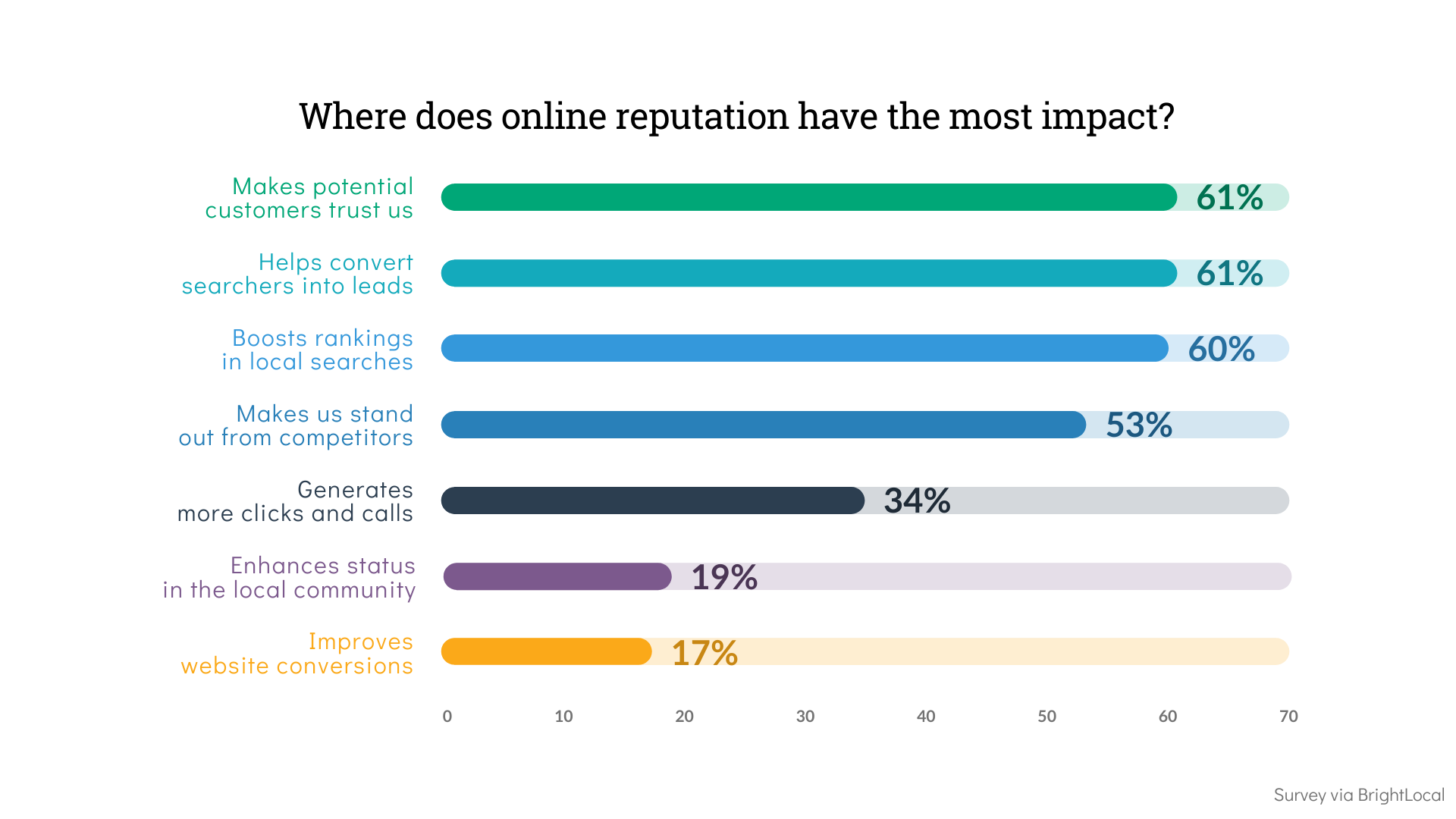 How does managing online reputation help businesses?
Having a respectable online reputation is no longer a "nice-to-have" for businesses. Today, it's a requirement in order for consumers or businesses to consider your business as a viable option.
Whether your business has taken a DIY approach to reputation management or just getting started, there's one thing that must be understood: building your reputation from the ground up requires an immense amount of work, patience, and collaboration.
However, when built properly and without cutting corners, businesses reap rewards that have a direct impact on the bottom line and are essential in developing a flourishing consumer base.
Above, we've listed the four main ways in which managing online reputation helps businesses that invest in the process. First, consumers who are searching for a product or service that is new to them will almost always begin their discovery period with a quick online search. Companies without a reputable digital presence, including reviews and star ratings, will often be removed from consideration immediately.
These reviews and ratings are what build a foundation of trust among consumers as they can peruse through the opinions of former customers regarding their experience with a business.
Additionally, online reviews help to cultivate a community of brand evangelists who are thrilled with your business and want to share their feelings for the world to see. That is why increasing review volume is critical to improving your overall star ratings.
Fortunately, businesses can bulk up their review volume simply by asking customers following their online or in-person visit. According to recent data, 76% of consumers will leave a review when asked by a company.
Finally, and most importantly, a positive online reputation significantly enhances not only your lead volume but the quality of those leads as well, meaning the consumer will be much more likely to convert after seeing how well your business has treated its former customers.
What Influences Online Reputation?
The short answer is that online reputation comes from review sites, such as Google, Facebook and Yelp, social media comments on platforms like Facebook, Instagram and Pinterest and your website's SEO.

Many businesses in today's digital ecosystem either isolate one of these pillars, such as Facebook reviews and don't put in enough time or energy into the other critical areas. While this is beneficial to customers who rely on social media for peer-to-peer advice, it alienates customers searching on review sites, and more importantly through search engines. This can be exacerbated even more in industries like healthcare where WebMD and Healthgrades may play a role.
A well-balanced approach is essential to the health of your online reputation and has the added benefit of optimizing the customer experience and dramatically elevating the overall digital footprint of your business.
In addition to reviews left by customers, your company's response rate and timing are critical when it comes to maintaining a positive reputation. Considering that 89% of consumers read local businesses' responses to reviews, this is a great way to show your personality and passion for providing an exceptional experience for the customer.
How Does Online Reputation Impact Lead Generation?
When talking about the most important aspects of any business, one of the first things that should always be mentioned is customer acquisition. What will make consumers choose your business over the competitors?
Having your online reputation in order is a great way to get a leg up in this regard. Online reviews and star ratings from the aforementioned search engines, review sites, and social media platforms build the necessary trust and credibility for customers to consider your business.
The best place to get started is with a Google My Business profile. This directly listing greatly enhances your search rankings and provides essential information about your business

From here, consumers searching for your products and services will be able to see where your business is located, your hours of operation, and most importantly the reviews and ratings from your previous customers.




Google My Business profiles provide consumers with essential details about your business.
The importance of Google My Business panels is only increasing as we move further into the world of mobile search. In recent months, Google has made several changes to the GMB panels, specifically on mobile to help businesses earn business directly from the panel.
Whether it's to read customer reviews, find out how far they are from a business or call and schedule an appointment, consumers have several clickable options that could bring them one step closer to becoming a new customer within these mobile search results.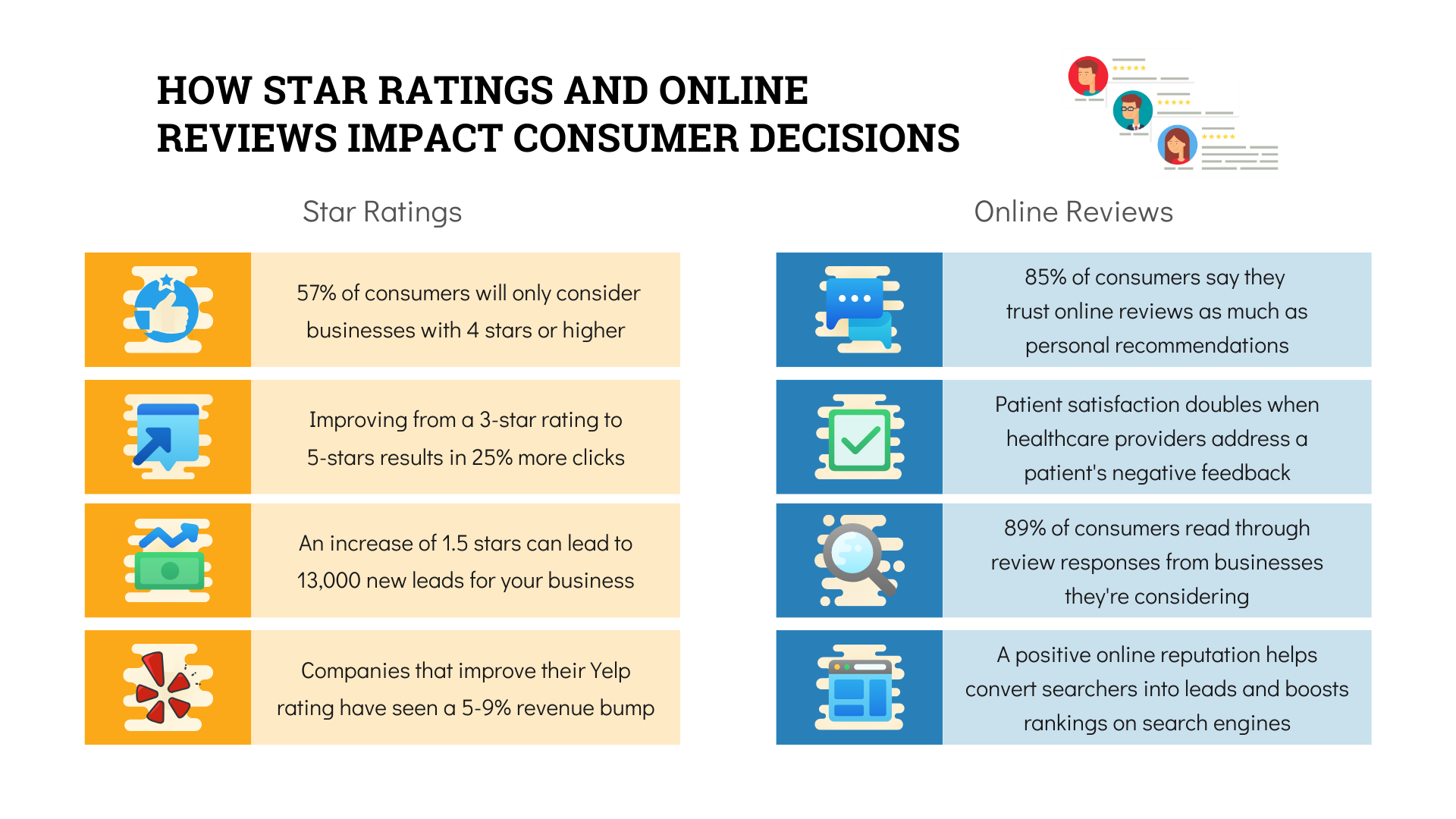 Google My Business Panels for


Multi-Location Businesses and Healthcare providers
GMB panels become a bit more complicated for multi-location businesses and professions such as healthcare providers who may work in multiple practices. There are several reasons for this, including that it will help to build a vast digital footprint for your business, and also to drive as many reviews as possible to the correct profiles.
In either of these scenarios, it's highly recommended to create separate GMB profiles to eliminate confusion from the consumer, while also protecting each location from only receiving reviews and inquiries for their specific profile.
For example, let's say there's a doctor who practices at three separate medical offices under the same network. If a patient left one of the offices displeased and compelled to leave a review about the lack of parking available, the review would likely be left on the location panel rather than harming the specific doctor's online reputation and vice versa.


Multi-location businesses and individual providers should always have separate Google My Business profiles.
The XAmplifier Software
How It Works
XAmplifier helps businesses systematically improve their online reputation in all locations largely through generating online reviews. Before getting started with a new client, we often ask where they believe they feel they need to improve the most, whether it be Google, Facebook, etc.
With that in mind, we help the client to roll out a new review request initiative which sends automated alerts to customers, asking them to review their experience. In the case of
online reputation, these review requests contain direct links to the various review platforms.
Using predictive analytics based on psychographic data, we have the ability to determine how the surveys are delivered. either by SMS or email and which customers have a higher likelihood of submitting the surveys.
Why It Works


The Relationship Between SEO and Online Reviews
Online reviews provide legitimacy to prospective customers in their purchase journey, without the volume or the consistent frequency of online reviews, businesses tend to lose out on customers who care deeply about their peer's opinions.
Consider that 86% of consumers read online reviews for local businesses, a number that spikes to 95% for the 18-34-year-old demographic. Additionally, nearly half of consumers do not take reviews older than two weeks into account. (Source)
Within the hierarchy of acquiring new customers through the internet, the leading factor will
always begin with SEO. Among the hundreds of eye-popping SEO-related statistics, these two are the most important for businesses to realize.
How does XAmplifier help businesses with Online Reputation?
XAmplifier's proprietary, cloud-based software is an all-in-one solution designed to help
businesses take control of their online reputation and optimize customer experience.
The process begins with strategic review generation, meaning review requests are delivered
directly to your customers via SMS text or email following their visit. Once reviews are
submitted, XAmplifier clients receive real-time notifications and have the ability to respond to reviews from within the software.
This accumulation of data is a goldmine for businesses, allowing them to understand what
drives customers to and from their business -- whether it be company-wide or location-specific -- through high-level dashboards and analytics.